The name's Joe.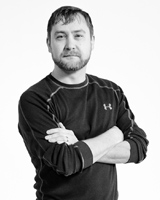 I like making useful things.
Turns out that I've been doing this crazy hoopla called design for about 8 years now. Big time.
I'm better at it than I used to be, but still looking to improve my prowess as a professional UX designer.
What a ride it's been.
This is not about problem solving. design is about problem setting.
Design is an action that always addresses a need. I believe that we really can use design as an action to help others. What greater need exists in this world than to help people?
I want to make user experiences elegant, engaging, interesting, and maybe even educational.
Good designs are useful to the people who need them, are usable, communicate deeper messages, and create awesome experiences.
"Design is the ability to imagine that-which-does-not-yet-exist, to make it appear in concrete form as a new, purposeful addition to the real world." - E. Stolterman
I want to create people-centered experiences, systems, services, and even everyday things.
3 things I do when I design...
Feature 1

Feature 2

Feature 3

Feature 4

Feature 5

Feature 6
Having deep empathy for a specific group of people is key to addressing user's needs, and creating useful solutions. Understanding the people you are designing for will help to uncover their lifeworld, and will reveal the problem space that needs to be addressed.
Sketching is thinking. Sketching is collaborative. Sketching is expressive. Whether I'm sketching out thumbnail ideas on post-its, or sketching an entire UI in detail on a whiteboard, this is always the fastest and easiest form of expression when coming up with new ideas and concepts.
Artifacts we design affect the lifeworlds of the people who use them. Understanding systems and eco-systems in companies, in nature, and even in culture, is key to creating successful designs that will positively impact people, society, and organizations.
Design for a startup: Aver, Inc.
Design for HCI/d Master's Degree